OUR PRODUCTS : INSECTICIDES
Learn more about our insecticide product offering – it is perfect for the agricultural sector!
Insecticides containing pyrethrin instantly kill insects on which they are sprayed.
Insecticides containing permethrin kill the insects they are sprayed on after a certain length of time. This means that the insects tend to die elsewhere than where the insecticide is used.
This product is ideal for livestock buildings, dairies and barns, stables, horses in stables, pigs in piggeries and animal shelters.
It kills and repels stable flies, houseflies, horn flies, mosquitoes, gnats, night moths and crawling insects such as cockroaches, spiders, crickets, ants, carpet beetles, millipedes, silverfish, cat and dog fleas, blood ticks, American dog ticks and bedbugs (pyrethrin 0.50%).
For domestic use (class 5).
This product is designed for both flying and crawling insects.
X-max is the most powerful product in its family, as it is composed of 0.5% chrysanthemum flowers. It is designed specifically for the control of flying and crawling insects in the home.
For domestic use (class 5).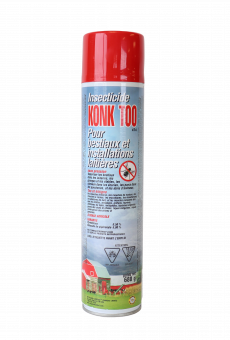 One of the best sellers for livestock buildings and dairy facilities.
Kills and repels stable flies, house flies, horn flies, mosquitoes, midges, night moths, crawling insects and more (pyrethrin 0.5%)
For commercial use (class 3)
QuickBayt is a ready-to-use formula – no mixing required. Simply place the product on a bait station to kill houseflies in livestock production buildings, poultry houses or stables. One use will last several weeks and kill flies in minutes. Can be used alternately with Tempo. 
For commercial use (class 3).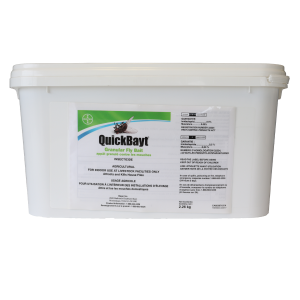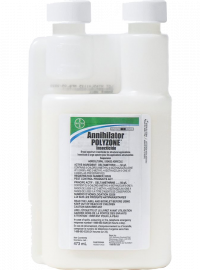 Annihilator POLYZONE is a liquid concentrate for use as an in-building spray to control a wide range of crawling and flying insect pests, including flies, desert beetles, mosquitoes and ticks.
Can be used on many surfaces such as concrete, wood, etc. This product resists the elements like rain and wind, and is designed to last up to 12 weeks.
For commercial use (class 3)
RAMIK, RODENT BAIT WITH STATION
The Ramik refillable bait station is an effective rodent control solution.
The package includes a refillable bait station and mini-bars which contain a proven and effective anticoagulant rodenticide and will be stored safely inside the bait station.
For domestic use (class 5)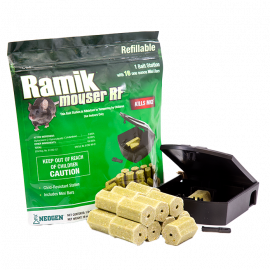 RAMIK, HIGH-ADHESION RODENT TRAP
Ramik glue traps take advantage of the fact that rodents have limited vision.
Rats always try to run close to walls, using their whiskers to detect objects on either side of them, and moving forward in small, rapid leaps. Once rats run across the surface of a glue trap, they are caught, restrained and die. No additional bait is needed!
For domestic use (class 5)
An alternative to the usual insecticide products is the use of fly traps. These traps are designed to attract, trap and eliminate flies.
PRODUCT information REQUEST