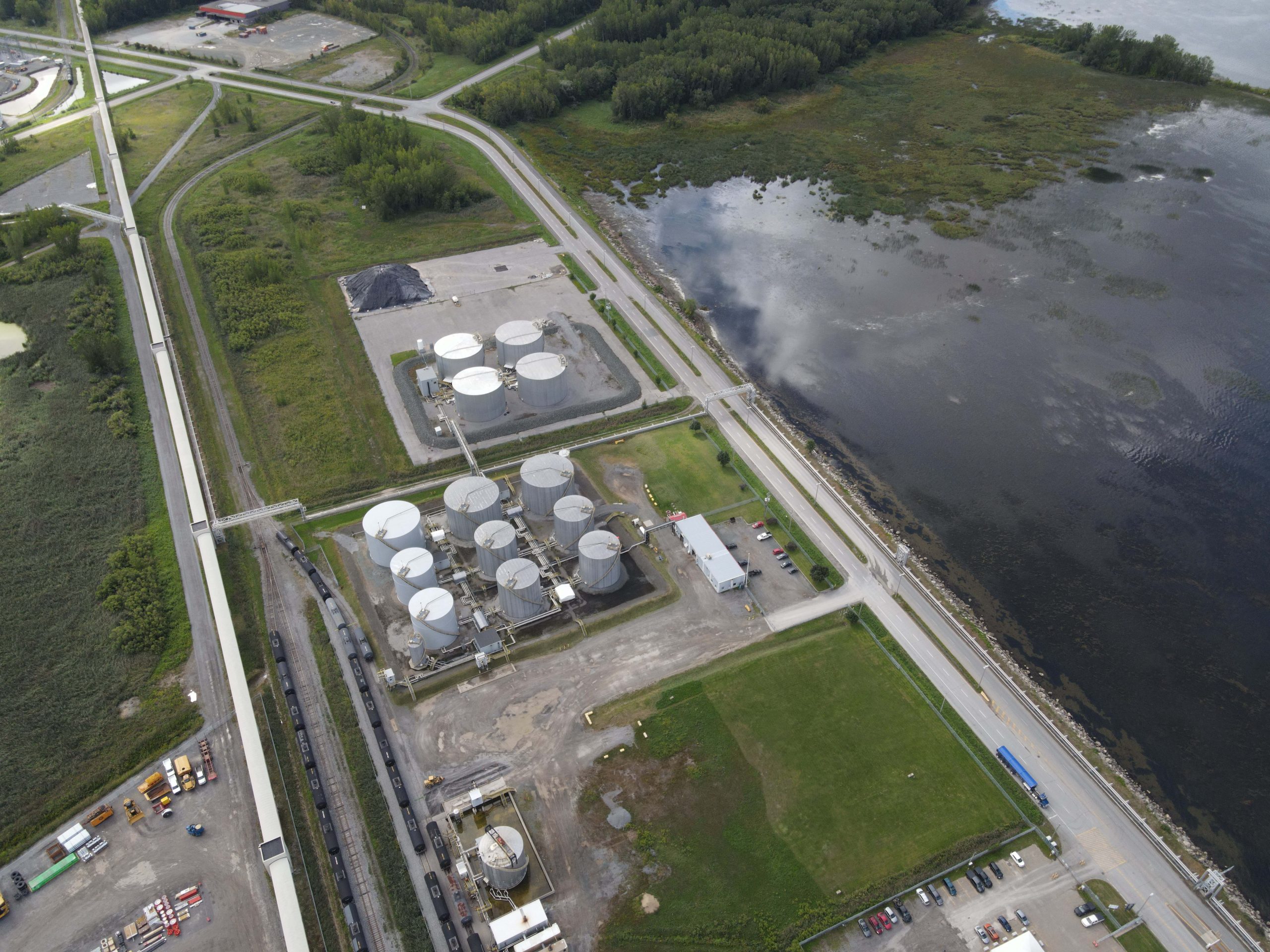 16 June 2021
Three Distinctive Features of the Bécancour Terminal
Excerpted from an interview with Louis-Philippe Gravel, Assistant Director of Operations for Servitank since 2020.
Servitank offers complete, efficient solutions for the handling and warehousing of liquid chemicals and industrial products. Operating and managing liquid terminals are part of the core expertise of employees working at this terminal. In recent years, Servitank has undergone two major expansions (in 2006 and 2010), reflecting the incredible business potential of the terminal located in the Bécancour Waterfront Industrial Park, between Quebec City and Montreal.
Three Distinctive Features of the Terminal
Multimodal and state-of-the-art
Accessible by ship, rail, road, and pipeline, Servitank is a top multimodal terminal that can oversee a variety of transfers and handling operations, including receiving ships, tank transfers, inter-plant transfers, ship and railcar transshipping, receiving and loading trucks, etc.
Servitank was inaugurated in 2002, as a customer sought to reduce their ecological footprint. It brought to life this forward-looking vision aimed at minimizing carbon emissions by using a variety of modes of transportation, such as ships and railcars, which can transport far larger volumes than trucks. It's a business partnership that continues to this day. Beyond the opportunity to receive cargo by ship and rail, it was the ability to pipe product directly to their plant (or other destinations) that sparked the customer's interest. The logistics of transferring product to tanks, then directly to the customer's plant helps optimize the raw material supply process in an environmentally friendly way.
Automation and inventory tracking
On that topic, Louis-Philippe says that "the terminal is equipped with an advanced automation system that can track a variety of data points in the field using radar, temperature sensors, pressure sensors, and a cutting-edge security system." The operating interface gives operators an extensive overview of operations at all times. Automated equipment makes taking inventory easier and more efficient for customers, with greater operational safety.
Employees and health/safety
From a workplace health and safety perspective, keeping high professional standards is required of all our employees, from operators to superintendents and administrative personnel. Health and safety are central to every operations meeting as a core part of our company culture. Procedures are closely followed and every employee is fully trained by Groupe Somavrac on topics such as WHMIS, confined space work, transportation of dangerous goods (TDG), and many more. Servitank operators in Bécancour are also trained on railway safety, driving wheel loaders, and specifics for the products we transship.
"Partnering in a safe, efficient, and professional environment is our daily mission at Servitank."