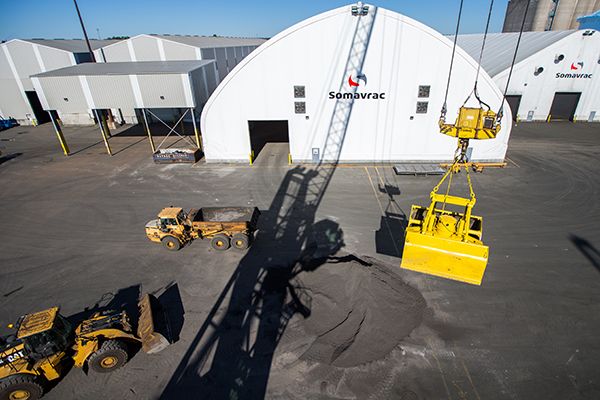 29 November 2016
10 good reasons to do business with Groupe Somavrac
Discover 10 good reasons to do business with the Groupe Somavrac.
1. Human and personal approach
The company offers a business to business (B2B) service. However, the customer approach is more H2H (human to human) which refers to the human contact that is essential to a successful customer experience. For the Groupe Somavrac, the balance between digital and traditional channels is important to offer a cohesive and personalized experience to customers.
2. Terminals in Quebec and Ontario
From Mississauga to Montreal and Sept-Îles, Groupe Somavrac operates fifteen terminals in Quebec and Ontario. Consult our interactive map to see the strategic positioning of Groupe Somavrac.
3. Turnkey service to avoid major headaches
With Groupe Somavrac, you no longer need to coordinate with three or four suppliers for transportation or distribution of your goods. Groupe Somavrac has the skills to organize and manage the complete handling of your goods.
4. Each to his own job! Groupe Somavrac takes charge of your logistical tasks
Each subsidiary excels in its own expertise: stevedoring, storage, transportation, handling / transformation and chemical distribution. The strength of the group enables the Groupe Somavrac to partially of fully free the customer from logistics activities and this in a proactive, efficient and safe way.
5. Committed experts
Groupe Somavrac employs more than 450 full-time professionnals, devoted to the company, the continuous improvement and customers.
6. A multimodal service
Groupe Somavrac is recognized for its constant quest for cost-effective solutions, and also for its central role in the achievement of its customer's business objectives. In order to do so, Groupe Somavrac quickly realized that it was a must to have an expertise with the different means of transport such as maritime, rail and road. Combined transportation therefore has no secrets for the Groupe Somavrac since 1963.
7. A service of quality depending on the reputation of the company
As the responsible of each steps of the supply chain or delivery process, Groupe Somavrac ensures the same level of quality, and that from the beginning to the end of the operation. Groupe Somavrac is recognized as a guarantee of satisfaction and professionalism.
8. Administrative simplicity
The integrated service offered allows a much simpler cost management and tracking goods for the customer. In this regard, the company offers a telemetry delivery planning service.
9. A tailored service
The diversified expertise and complementarity of the subsidiaries allow the Groupe Somavrac to customize its service for each mandate or project in a unique way.
10. Transparency
Groupe Somavrac gives great importance to communications. Both problems or good news are communicated to whom it may concern, in an interest of transparency and continuous improvement. This means that as a customer, your requests and needs are processed with importance and as quickly as possible.