A solution for each condition
Safety is top priority: that's why Somavrac C.C. has perfected its dust suppressant distribution methods, both in terms of spreading techniques and equipment, to provide customers with dust-free environments.
Depending on their form, Somavrac C.C. dust suppressants can be used to tackle dust problems on
Unpaved surfaces – Gravel walkways and driveways – Bike paths – Parking lots – Golf paths – Tennis courts, baseball diamonds, and campgrounds – Equestrian centers – Gravel road repairs – Mines (crushing and piling operations) – Other similar surfaces
Benefits and specifications of flake form
Autonomous/customer application
Effective in repairing sporadic damage to gravel roads, such as potholes, and an excellent solution when a second spreading is required
Dissolution possible (from solid to liquid state)
Certified by Bureau de normalisation du Québec (BNQ)
Available in bulk (over 10 metric tons) and smaller formats (20, 35, or 1,000 kg)
Product : Xtra85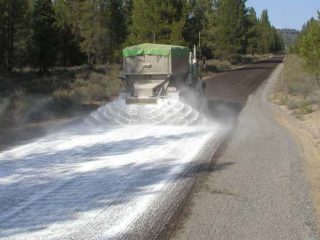 Benefits and specifications of liquid form
Turnkey spreading service provided by Somavrac C.C. across Quebec
Available in bulk, semi-bulk, or 1,000-liter totes
Products
Liquidow, 20%-35% concentration liquid calcium chloride.
Iron Dust & Iron Melt, calcium chloride for the mining and construction industries, specially developed with a corrosion inhibitor and a nontoxic commercial additive for optimum product performance.
Best known as a dust suppressant, calcium chloride in liquid and flake form is also an excellent
road stabilizer
to consolidate and stabilize road surfaces.